12 Bitcoin Remittance Providers you should know in Africa
Bitcoin based Remittances and Their Benefits to African Customers
Today I want to talk with you about bitcoin remittance providers. Why?
Although the leading cryptocurrency Bitcoin could be facing crackdowns in various regions in the world, it is experiencing a surge in the African remittance market. It isn't affected by geographical variations since its transactions are stored in a blockchain database.
The main difference between cryptocurrencies and MasterCard or visa is that it isn't regulated by the government and doesn't require intermediaries, and the transactions rely on the internet; thus can take place at any part of the world.
Remittances have become a common way of life in most African countries since there is an increased number of immigrants in search of better wages. These workers will, at one point in their lives, want to transfer money to their families and friends back in their home countries. The situation leaves most people at the mercy of various financial institutions like banks and money transfer operators who charge a very high fee.
However, the cryptocurrency and blockchain technology offers high hopes in an attempt to transform the African remittance industry in favor of migrant workers and their families.
Today, Bitcoin operates as a medium of money transfer allowing users to evade the high charges by traditional money transfer services.
See also my article "The Ultimate Guide About Bitcoin Based Remittances for Africans".Table of Contents1Bitcoin based Remittances and Their Benefits to African Customers2Comparison Between the Traditional and Bitcoin-based Remittances3Cryptocurrency's Popularity in Africa4Reasons Behind Crypto Popularity in most African Countries5Bitcoin Remittance Providers for African Countries6Bitcoin remittance provider Paxful7Bitcoin remittance provider LocalBitcoins8Bitcoin remittance provider Coinmama9Bitcoin remittance provider BitPesa10Bitcoin remittance provider NairaEx11Sign up for my updates and latest insights:
---
12Bitcoin remittance provider Hellobit13Bitcoin remittance provider Remitano14Bitcoin remittance provider Geopay15Bitcoin remittance provider BTCGhana16Bitcoin remittance provider SureRemit17Bitcoin remittance provider Circle18Bitcoin remittance provider Crowdz19Bitcoin remittance provider Everex20Bitcoin remittance provider Metalpay21Bitcoin remittance provider Eversend22Conclusion about Bitcoin remittance providers
Comparison Between the Traditional and Bitcoin-based Remittances
In the ancient model, for example, when a USA based migrant worker needs to send money to his family in Africa, he visits a money transfer operator and hands over the cash. The transfer agent then starts to process the transaction at the current exchange rate and must charge for the services. Generally, the agent works as a third party conversant with the transfer software and services from a remittance software provider like a Western union.
Since he lacks the financial capabilities and relevant software system, he only gets a fraction of what the customer pays, and a considerable amount goes to the remittance provider company. Additionally, the agent needs to settle some subscription fees for system installation and maintenance. Thus, he must increase the overall cost to the end-user to meet his financial obligations. Besides, inexactness in the exchange rates also affects the client in the form of unfavorable rates.
On the other hand, the crypto remittance companies facilitate better cross border payments through a great internet connection and a simple software system compatible with various devices. Therefore, the money transfer agents can perform the transactions without additional installation, maintenance, or subscription costs. The blockchain technology then records the transaction details and anti-money laundering necessities in a database for security purposes.
The business operations in these companies involve estimating the amount of money required for particular remittances in a day. They then purchase an equivalent bitcoin and later sell the crypto in the fiat currency in the recipient nation.
Cryptocurrency's Popularity in Africa
The soaring rise in mobile phone use in most African countries is helping entrepreneurs compete with other money transfer services with high remittance rates and fees. The crypto use has increased in Botswana, Ghana, Kenya, Nigeria, South Africa, and Zimbabwe. Additionally, cryptocurrency is gradually gaining ground in Uganda.
According to Google trend data, Lagos in Nigeria has the highest volume of online search for Bitcoin. It results from the frustrations of existing money transfer services, which bars the citizens from receiving money from their families overseas due to the countries fraud reputation. As a result, numerous innocent people are suffering and have to use alternative services with a high fee to receive financial help.
Recently, most of them have embraced cryptocurrencies as a perfect solution. Citizens of countries battling with high inflation rates are likely to opt for crypto as a substitute for their disastrous banking policies. Some of the countries with high inflation rates include Egypt, Ghana, Mozambique, Zambia, Zimbabwe, and Malawi and are among the leading bitcoin economies in Africa.
Another significant factor spurring crypto growth in the continent is the inability and powerlessness of the governments to regulate Bitcoin. Fearing the collapse of the banking sector and misappropriation of funds by the African governments, most citizens seek crypto transactions. The South African Luno exchange was developed in 2013 and has attracted more than 1.5 million users worldwide.
Additionally, the Kenyan Bitcoin Remittance Provider Bitpesa facilitates transactions in African and international locations with high trading volumes contributed by the lucrativeness of the business.
Other Bitcoin Remittance Providers include Abra, operating in Morocco and Malawi, BitMari in Zimbabwe, and Geopay in South Africa.
Surprisingly, some governments have shifted into the virtual currency terrains with Tunisia's government issuing the eDinnar digital currency.
As stated by the Hootsuite's 2019 global digital yearbook, 10.7% of South Africans own crypto, with Nigeria at 7.78% and 7.3% for Ghana.
Reasons Behind Crypto Popularity in most African Countries
Most African citizens have started shifting their hopes to the use of crypto to escape numerous constraints faced with the traditional money transfer services, including cost, speed, and inconveniences.
The main benefit is the overall lower cost to the end customer, which allows migrant workers to send substantial amounts of money to their loved ones in their home countries at fairer prices. Also, there is a high unpredictability in the local currencies in most African countries; for instance, when South African rand became a volatile currency, most people switched to crypto to seek security.
The transaction is safe, and the companies don't hold the virtual currency for more extended periods; thus, the operation takes a short time.
Some Africans have also lost trust in their local banking systems, for example, in Zimbabwe where they have experienced hyperinflation, Bitcoin is very popular, and at times demand surpasses supply. Due to the instability and shortages, most Zimbabwean citizens are flooding the crypto markets as they believe Bitcoin is more trustworthy.
Besides the financial inclusions and local currency volatility, there is a vast unbanked population in the continent since others in remote regions lack access to bank accounts.
Mobile money is a critical driver in reducing the number of unbanked individuals; thus, Africa is better prepared to shift into the crypto world than any other continent. Most citizens are already open to adopting crypto technology, and crypto exchanges that offer mobile functional apps will highly benefit.
Bitcoin Remittance Providers for African Countries
As crypto awareness is on a rapid rise in Africa, more cross border payments are likely to take place with the digital currencies. Most African migrant workers now put their hopes on bitcoin based remittances to send money to their families at home due to the lower fee, improved efficiency, and speed of the transaction.
A considerable number of crypto-fiat platforms have thus emerged to meet the high demand, and you need to choose the right one depending on location and preferences.
As Bitcoin Guide Africa we present you here the leading Bitcoin remittance providers in operation.
Bitcoin remittance provider Paxful
Paxful, a crypto remittance platform founded in 2015, with its headquarters in New York, has since recorded a consistent uptrend in its existence. It avails most African nationals a chance to send funds to their families back at home since it's less volatile than most fiat currencies in some countries experiencing higher inflation. To start transactions, create an account and click "buy bitcoin," then input preferred currency and method of payment, state, city, and the bank of your choice.
Search for offers, pick one, and then enter the amount of money you want to trade, you can now converse with your vender through live chat. Buyers will need to get the name, and the account number of a vendor, then go to the bank, deposit the money, and take a picture of the slip then send it back. Once the verification process is complete, escrow releases a bitcoin to complete the transaction.
Numerous people from all over the world can now transfer funds and trade bitcoins through the site daily. It provides several payment methods, including Visa, MasterCard, PayPal, MoneyGram, bank transfer, among many others.
It operates in various African countries including:
• Mauritius
• Algeria
• Egypt
• Rwanda
• Kenya
• Mozambique
• South Africa
• Nigeria
Read more about Paxful: A Comprehensive Guide to Paxful's Role in Africa or click here to visit the website of Paxful directly!
Bitcoin remittance provider LocalBitcoins
Jeremias Kangas and his brother Nikolaus formed the Helsinki-based platform in 2012, which allows direct trade between persons. It doesn't provide for an overhead corporate; thus, the transaction process is swift and lean. LocalBitcoin has recorded an increase in the transaction volumes in the African countries for peer to peer transactions.
It provides a safe platform where its users can convert bitcoins into fiat and vice versa and also facilitates funds transfer between African countries. The platform connects buyers and sellers within a particular geographical area hence the name. It supports a wide range of money transfer options, including the Mpesa, which makes it popular among most African crypto investors.
It's the most straightforward platform for beginners who wish to send money to overseas in the operating African country. You simply need to open a LocalBitcoins account and search for people selling bitcoin-core in your country, then make a bank transfer to the seller, and you will receive fiat cash into your desired local account. The system offers heightened security by using escrow mechanism to hold funds and only releases it when both parties come into an agreement. The platform is available in every African country where buyers and sellers are ready and willing to transact using digital currencies.
Read more about LocalBitcoins: LocalBitcoins in Africa Extensive Guide
Bitcoin remittance provider Coinmama
Founded in 2013, Coinmama is operated by New Bit Ventures Limited with its headquarters based in Israel. The platform provides brokering services for crypto, meaning that they sell you bitcoins directly as opposed to other platforms where you buy from other traders. It offers multiple options to purchase cryptocurrencies off the platform using credit cards, debit cards, Western Union money transfer, MasterCard, Visa, and cash payments.
For bitcoins transfer using Coinmama, create an account, and submit your documents for verifications to get approved for purchase. Once verified, you can assess various choices to purchase a certain amount or enter a custom amount. When you submit your wallet address for order processing, Coinmama's wallet expedites payment to the required address.
For the credit card orders, it takes a few minutes to process, but SEPA bank transfers will take up to two days. Their website comes with a step by step guide on how to use their services and offers industry-leading purchase limits convenient for any beginner. It operates in most African countries, providing simple, fast, usually slightly expensive transfer services.
However, it isn't available in the following countries:
• Somalia
• South Sudan
• Sudan
• Zimbabwe
• Nigeria
Click here to visit the website of Coinmama!
Bitcoin remittance provider BitPesa
Elizabeth Rossiello founded the company in 2013, based in Nairobi, whose initial focus was to facilitate crypto-cash transfer between the U.K and Kenyan citizens but has extended to several African countries. Today, the platform has gained popularity among importers and exporters across Africa, and it facilitates a smooth trading and remittance services. Users can send and receive cash in multiple African currencies to pay bills at home and other international currencies to pay overseas suppliers.
It operates by deploying APIs that work with various mobile payment platforms and a chain of bank networks. Organizations can send payment to their employees' suppliers or distributors and also collect fees from African customers in local currencies. To transact, you need to establish a BitPesa account where you can sell or buy virtual currencies such as Bitcoins in the supported national currencies.
If you need to initiate a transaction, then you must deposit Bitcoins into your BitPesa account. Then, designate a Payee account where the money gets delivered at the current exchange rate. You then confirm your exchange transaction where the indicated amount of cryptocurrency is transferred from your account and deposited into a designated payee account. Most people use the platform to enjoy fast, straightforward, and more effortless remittances between international and Africa fiat currencies.
BitPesa operates in the following African countries:
• Kenya
• Uganda
• Tanzania
• Nigeria
• Democratic Republic of Congo
• Senegal
• Morocco
• Ghana
Click here to visit the website of BitPesa!
Bitcoin remittance provider NairaEx
It is a Nigerian based e-currency exchange platform founded in 2015, which allows users to sell and buy Bitcoin with Nigerian Naira at fairer rates. Today, it's a central exchange service platform in the country which operates independently from a mobile payment processing solution. It facilitates cash payments while cutting a considerable amount of the deposit and withdrawal fee and thus allows users to convert crypto into cash via bank accounts freely.
The transactions with NairaEX are quite straightforward where the sender deposits local currency into the account, then provides a recipient bank detail, and the platform pays it into the beneficiary's local bank account. Additionally, users can use bank transfers or deposits to buy bitcoin in Naira through the platform and then use the exchange wallets for payments and can quickly cash out their bitcoins into local currency.
It helps the clients pay school fees, living expenses, and salary or make remittances to suppliers. The platform aims at providing Bitcoin exchange services exclusively for Nigeria citizens, and that's why the country's currency terminology is part of the domain name. It aims at supporting the country's numerous unbanked individuals by developing a payment request tool that allows users to accept virtual currency directly from a NairaEX account.
Click here to visit the website of NairaEx!
Sign up for my updates and latest insights:
Sign Up
Bitcoin remittance provider Hellobit
The San Francisco based company, founded in 2014, utilizes new digital currencies technology to send money home to families in emerging markets. It uses bitcoin as the primary medium for cross-border payments and cuts the service remittance fee up to 12 percent. Through the company's app, users connect with other currency exchangers, be it individuals, businesses, or large organizations, and one can receive payments in their local currency.
Hellobits integrates the power of cellphone services into the remittance market to improve efficiency in the cross-border payments. It's a three-party remittance service where the sender and exchanger need a smartphone while the recipient only needs a feature phone. The senders logs into the Hellobit account and transmits a bitcoin to the local exchanger. The platform then notifies the beneficiary via SMS code to confirm if they are the right recipient.
The recipient then receives a location of a place or a person nearby who will exchange the cryptocurrencies for local currency. It allows people to send money to their friends and relatives anywhere in the world, provided that the recipient can pick up cash from the trusted network of collaborative economy-based exchangers.
Click here to visit the website of Hellobit!
Bitcoin remittance provider Remitano
Remitano is a peer-to-peer platform that facilitates cryptocurrencies trading in a secure environment. On the platform, users can purchase Bitcoin in exchange for Fiat currencies at a small fee between themselves. A Seychelles based company, Babylon Solutions Limited owns it and has been in existence since 2015.
For any transaction, you need to create a Remitano account and then scroll down to find a buyer. Depending on the selected country, cryptocurrencies exchange rates, all buyers and sellers from the specific locations, are displayed. Enter the amount of crypto you want to sell, your payment account details, then click "Continue", and the transaction will switch automatically waiting for the buyer to pay. The buyer will then deposit money in the required account and close the deal.
It has encrypted data storage, two-factor verification, and escrow trading to ensure that transactions and personal data are secure. Remitano mostly works with cash deposits and bank transfers but avails other options in different countries like Wechat and Alipay. Apart from the web platform, users also access it via mobile applications in Android and iOS powered devices, which facilitate push notifications.
Remitano Services are accessible in the following African countries:
• Nigeria
• South Africa
• Uganda
• Kenya
• Zimbabwe
• Tanzania
Click here to visit the website of Remitano!
Bitcoin remittance provider Geopay
GeoPay is a blockchain remittance digital platform that facilitates the flow of remittances from different parts of the world into Africa. It is a South African based startup, founded in 2014. Users can easily send or receive money via Geopay tellers who are available in and out of South Africa. The platform has a great user experience that integrates local currency in the emerging markets; thus, making cross-border payments easy and fast.
One is required to download the application on iOS or Android enabled devices and has an option to add a debit card to send money via Geopay. Transactions go through a network of agents in the informal settings who facilitates settlements for the financially excluded individuals between countries. It enables people in the diaspora to seamlessly send money to their homeland and saves them on conversions and transfer fees. Additionally, users can use GeoPay to make merchants payments.
Click here to visit the website of Geopay!
Bitcoin remittance provider BTCGhana
BTC Ghana is a bitcoin remittance platform that facilitates the transfer of funds in a secure, fast, and affordable way for Ghanaians and Africans in the diaspora. It was founded in 2015 with its headquarters in Kumasi, Ghana. BTC Ghana incorporates the blockchain technology into the current mobile money service providers in Africa, to facilitate mobile settlements using bitcoins from developed countries to Ghana.
Users in Europe and the United States can make cryptocurrency purchases via established exchange platforms and send the payment to local remittance platforms such as MTN Mobile Money, AirtelMoney, and TigoCash. The money then gets transferred to recipients' mobile money account, and users can pick their funds at local remittance outlets in Cedi without dealing with the complex Deposit and withdrawal methods.
Click here to visit the website of BTCGhana!
Bitcoin remittance provider SureRemit
SureRemit is a non-cash remittance platform that uses blockchain technology to assist immigrants to send money back home. It was founded in 2017 with its headquarters based in Lagos, Nigeria. It doesn't charge transaction fees when paying for utility bills, groceries, or medical treatment. Users are at liberty to choose a specific local merchant from whom they can purchase digital vouchers and settle it instantly on the SureRemit platform.
By the use of blockchain, the platform can bypass the usual banking system and connect a consumer to a local merchant at a small transaction fee. To transact on SureRemit, download the app on either android or iOS powered gadget and present tokens to start making payments. It's tied to a specific merchant and is irredeemable for cash; thus cannot be used for money laundering, fraud, or terrorist funding.
SureRemit is looking forward to growing its presence in Africa through its predecessors' network, SureGift. It provides Remit tokens and has a vast network in various African countries like:
• Rwanda
• Nigeria
• Egypt
• Kenya
• Mauritius
Click here to visit the website of SureRemit!
Bitcoin remittance provider Circle
The Circle is a global internet finance company that is built on blockchain technology and powered by Crypto assets. It was founded in 2013 by internet entrepreneurs Sean Neville, and Jeremy Allaire, and the headquarters are in Boston, Massachusetts. It has a mobile payment platform, the Circle Pay's, that enables users to send, receive, or hold traditional currencies.
To send money using Circle pay, sign in to your account and navigate to the "send tab" then enter the amount you wish to transfer. Enter a Bitcoin address to choose where you want to send your funds and complete the payment. There are no deposit or withdrawal charges from bank accounts, insurance, storage, or cryptocurrencies transactions. Users can register for one account, denominated in their local currency or Bitcoin, for a maximum of two reports.
Click here to visit the website of Circle Pay!
Bitcoin remittance provider Crowdz
Crowdz is a blockchain platform that permits businesses to manage, digitalize, and optimize invoices. It was founded in 2014 by Payson, Severo, Steven Lee, and Hopkins, and the headquarters are in Sunnyvale, California. Crowdz uses a blockchain-based B2B money transfer service. It uses blockchain as its foundation to automate and speed up transactions, thereby eliminating the process of having to download and key in information into an accounting system.
After transmitting an invoice over the Crowdz invoice exchanges, the digitized data securely and instantly passes to the relevant parties such as employees and clients. Not only does it make work easier on invoicing, but it also facilitates faster payments, orders, and documents. All these related transactions instantly become interconnected; thus, making it less stressful.
The company focuses on small and medium-sized firms to boost their growth in the economy and has fully customized solutions for global ventures. It accelerates the cash conversion cycle by allowing digital payments to overseas suppliers with no international transfer fee. Crowdz support 24/7 invoice exchange in most countries with Barclay's bank access.
Click here to visit the website of Crowdz!
Bitcoin remittance provider Everex
Everex is a blockchain financial technology firm that enables the application of virtual currency on a peer to peer payment platform to facilitate cross border transactions. It was founded in 2016, by Alexi Lane with the main office in Bangkok, Thailand. Everex acts as a link between cryptos and fiat currency by digitizing local currencies into fiat to come up with a costless, transparent, secure, and fast payments system.
Users can convert their money into digital crypto-cash via their local banks and use them on desktop wallets and mobile devices. The cryptocurrency, therefore, paves the way for Everex to provide micro-lending services without the volatility of traditional cryptos. Concerns between the capital transfer system and external blockchains are addressed by the Service-Oriented Architecture, which comprises of Blockchain package and Everex –System package.
Everex enables you to make a transfer, pay other people, and trade with any fiat currency anywhere in the world. The company has developed a global partnership with vendors that accept Everex transactions as payment methods, and users can also withdraw cash through ATMs, retailers, and local currencies exchanges globally. It has a short settling time with a lower transaction fee and global support in the world's remittance markets. The platform accelerates access to financial services in underserved financial markets.
Click here to visit the website of Everex!
Bitcoin remittance provider Metalpay
Metalpay is a mobile blockchain-based remittance solution that allows clients to send money at better rates with a native reward currency. It was founded in 2016 in the United States in San Francisco by Marshall Hayner. Consumers can send USD, which is converted to bitcoins, to get a 'METAL' reward for every dollar they send or purchase. The awards can be held as an investment or converted to dollars and sent to another Metal Pay user.
A unique feature with Metalpay is that it has a combined cryptocurrency wallet with traditional financial accounts. To sign up, you need to link your bank account to the app and ensure you verify your identity and phone number. The settling takes a short period after verification. For every dollar you receive or sell, you earn MTL that is up to 5% the transaction value. The rewards are not restricted to sending money but also paying bills like rent or shopping.
Click here to visit the website of Metalpay!
Bitcoin remittance provider Eversend
It is a free banking alternative that avails money transfer services while capitalizing on the blockchain technology. It was founded in 2017 in the France capital, Paris, by Fast Track Malmo and Techstars investors. Their primary focus is on the African customers and those in diaspora all over the world. When using Eversend, you can transfer money to bank accounts and mobile devices.
It enables money transfer from Africa to the rest of the world, in-country money transfer, and intra-Africa crossborder areas. Through their e-wallet, they provide other financial services such as travel insurance, access to cryptocurrency, wealth management, and personal loans. Eversend delivers a complete digital remittance experience by facilitating international transactions without internet connectivity.
Users only need to link their debit card to Eversend accounts, loaded with different currencies to execute e-commerce settlements. It supports various currencies such as KES, RWF, UGX, GBP, USD, NGN, and EUR.
In Africa, it's available in:
• Uganda
• Rwanda
• Kenya
• Ghana
• Cameroon
• Tanzania
• Nigeria.
• South Africa
• Swaziland
Click here to visit the website of Eversend!
Conclusion about Bitcoin remittance providers
Africans working abroad often send money to their families and friends in their home countries to pay for school fees, buy food, clothes, and meet daily expenses or to start a business.
The money is essential for many families in recipients' countries to help cope with the continent's unstable economies.
However, a large amount of this money is taken in transfer fees by expensive agents and financial institutions.
While the financial organizations have been charging Africans high fees for these services, bitcoin-backed fiat remittances have become a solace for most overseas citizens due to its speed, efficiency, and low price.
As more nations adopt virtual currency payment services, Bitcoin may eventually dominate the African remittance market.
The future of crypto-currency based remittances in Africa will depend on the growing rate of mobile phone use and the currency's freedom from state regulations and banking controls.
THE POLITICAL HEIST THAT MANIKAI HELPED WRITE – THE SMM SAGA UNPLUGGED
The divestment and deprivation of the control of SMM Holdings Private Limited (SMM) from its UK registered parent company, SMM Holdings Limited (SMMH), and its directors on 6 September, 2004, pursuant to an order issued by the then Minister of Justice, Legal and Parliamentary Affairs, Hon. Patrick Chinamasa, was a "political project" initiated and prosecuted by one of the President's advisors.
Professor Mupasiri, Public Policy Director of the Friends of Shabanie and Mashava Mines Trust (FOSMM), said: "It is astonishing that Manikai, a practicing attorney whose duty to serve is to the constitution would be involved in this naked attack of the rule of law that he is ordinarily paid to promote and protect.
The fact that Manikai links this criminal onslaught on SMM using public power is chilling and an inditement of the integrity of President Mnangagwa as a custodian of the rule of law.
I am still trying to digest the true implications of Manikai's admission that at the core of the demise of SMM was a fallout that he attributes to President's quest to succeed President Mugabe.
In terms of s90(1) of the Constitution that reads as follows: "The President must uphold, defend, obey and respect this Constitution as the supreme law of the nation and must ensure that this Constitution and all the other laws are faithfully observed," it follows that President Mnangagwa to the extent that he knowingly and intentionally recognized and enforced this draconian law, his conduct is subject to the provisions of s167(2)(d) of the Constitution that provides as follows: "determine whether Parliament or the President has failed to fulfil a constitutional obligation," that gives jurisdiction to the Constitutional Court to determine whether his endorsement of the law that offends not only the Constitution of Zimbabwe but international law constitutes a failure to fulfil his obligations.
It is striking that Manikai who took an oath to uphold and defend the constitution has been the driving force in persecuting Mawere on allegations of externalization when he was fixed with the knowledge that this crime was incompetent against Mawere, a resident of South Africa, and as such was part his criminal attack on the rule of law.
To the extent that the true nature of President Mnangagwa's relationship with Manikai has been disclosed by Manikai, it would not take a rocket scientist that President Mnangagwa's failure to reign in Manikai for his criminal conduct in stealing a company using public power, there can be no doubt that he has failed to comply with the provisions of s90(2)(d) of the Constitution that provides as follows: "ensure protection of the fundamental human rights and freedoms and the rule of law," and such the Constitutional Court has jurisdiction to determine the role of President Mnangagwa in giving life to this repugnant act of state and implementing it during his Presidency."
Manikai's admissions confirm that he is a key player in the ascendancy of President Mnangagwa whose genesis can be traced to the Tsholotsho Declaration of 2004 whose intent was to make President Mnangagwa the successor to the late Vice President Muzenda and evidently Manikai has valuable information that should assist in the pursuit of the truth.
It cannot be disputed that the reconstruction of SMM was premeditated and no law existed to permit the government to divest the company's shareholders of the right to appoint and remove directors.
The power and authority of the shareholders of SMM and related companies was stolen from these parties by an act of state and an Administrator, Mr. Gwaradzimba, another ally of President Mnangagwa was appointed by Chinamasa for the sole purpose of ensuring that the rights and freedoms of shareholders were alienated without any due process of the law.
Below is what Chinamasa said in an affidavit that he deposed to in relation to an ex-parte application that Manikai prosecuted to confirm Chinamasa's order by a court of law:
It is significant that Chinamasa was not even ashamed to admit to what should be an independent and impartial court that: "at the time he issued the reconstruction order there was no provision in the regulations he purportedly wrote (but were authored by Manikai without the consent of the then Acting Attorney General, Justice Patel, who subsequently got promoted to be a judge presumably as a reward for acquiescing to this blatant attack on the rule of law.
It is also worth highlighting that Chinamasa on paragraph 5.7 of his affidavit, Chinamasa states the importation of the judiciary to the SMM heist only occurred after the event and through an amendment of the regulations used to divest SMM's shareholders of the control of the company.
Chinamasa gave himself exclusive authority to approve the SMM reconstruction and delegated the power to the AG fixed with the knowledge that there was no intention to involve the AG in this criminal conspiracy but to outsource the AG's duties to Manikai's firm, DMH.
Below is Chinamasa's signature in relation to the affidavit in support of an application for the court to play a subordinate and subsidiary role of confirming an order issued extrajudicially.
It is worth highlighting that in this unusual and unprecedented application, Chinamasa was the applicant with no respondent on the papers. Notwithstanding, Justice Kamocha, accepted this frontal attack on the rule of law by actually tolerating the attack on the doctrine of separation of powers, a fundamental tenet of the rule of law.
Manikai in prosecuting this matter knew that this application offended the constitution in that the Court was being asked in terms of s8 of the Reconstruction Act to confirm a Ministerial order whose effect was to divest citizens of rights and freedoms that are entrenched in the constitution.
It is chilling that a judge, who is supposed to be a guardian of the rule of law, was being asked by Chinamasa as set out below, using a lawyer whose conduct is subject to the constitution, to confirm an order that Chinamasa authored.
What is disturbing that a lawyer like Manikai would be party to prosecuting a cause in which the affected parties i.e. shareholders and directors of SMM were not served with the papers let alone being cited as Respondents when the audi principle, a fundamental principle of the rule of law, is operative.
If there was any doubt of the collusion between the judiciary and the architects of this criminal theft of the rights and freedoms using the agency of the government, the screenshot below tells all:
It is clear from the above that Chinamasa, who at all material times, was the Minister of Justice and not the AG, appointed DMH to represent in and the address for the service of papers to him was diverted to the address of DMH meaning that the AG was deliberately and knowingly excluded from any paper trail in relation to the SMM matter.
PRESIDENT MNANGAGWA AND MANIKAI – AN UNHOLY ALLIANCE OR A MATCH MADE IN HEAVEN
BACKGROUND
Friends of Shabanie and Mashava Mines Trust (FOSMM), is organized as a discretionary trust and operates in terms of the laws of Zimbabwe.
It was established to act as a vehicle for connecting, equipping and inspiring members and
raising awareness about the importance of the rule of law in shaping and defining the
character of a value-centric society.
SMM Holdings Private Limited (SMM) was created as a private company in 1917. In March
1996, the company's sole parent, SMM Holdings Limited (SMMH), a company duly
incorporate in terms of the laws of the United Kingdom (UK), that was in turn owned by T &
N Plc, a company registered and operating in terms of the laws of the UK, was acquired by
Africa Resources Limited (ARL).
ARL, a BVI registered company was wholly owned by Mr. Mutumwa Mawere, a
Zimbabwean-born South African resident and citizen since 2002
CESSION COURT ORDER
In December 2003, Dr. Gideon Gono was appointed as the Governor of the Reserve Bank of Zimbabwe (RBZ).
Following his appointment, he proceeded to target SMM and its related companies comprising 26 juristic entities employing more than 20,000 employees.
The initial cause of attack was foreign exchange related. Under Gono's instruction, the regime of forex retention whereby 75% of foreign exchange earned by SMM could be
retained for its own use was changed and reduced to an effective 25%.
This in simple terms meant that if SMM received $1 million from export sales, it was
required to sell $750K to the market at the official exchange rate and could only use $250K
to meet its important requirements.
The difference between the official and black-market rates was wide and significant allowing
for people in the RBZ selling the exported forex to special friends who would then sell this
scarce commodity through the black market and pocketing the windfall profits.
Between January and March 30, 2004, SMM was marketing its own asbestos products. With
effect from 1 April 2004, SMM's exemption to market asbestos was terminated abruptly and
the Minerals Marketing Corporation of Zimbabwe Limited (MMCZ).
One of SAS' agents, Southern Asbestos Sales Pty Limited (SAS), a company incorporated and
operating in terms of the SA laws, was responsible for invoicing SMM's customers and
collecting funds from the sales that were then remitted to SMM in Zimbabwe.
As a direct consequence of the RBZ's targeting, SMM was unable to use its forex to pay its
foreign creditors of which Petter Trading Pty Limited (Petter), a company incorporated and
operating in terms of the laws of SA, was the largest.
Petter approached the SA courts to obtain an order to allow it to collect from SAS what was
due to it but could no longer be paid by SMM.
The order was granted on 6 May 2004 per Van Oosten J.
EXRADITION OF MAWERE
On 17 May, 2004, a warrant of arrest was issued against Mr. Mawere, who was neither a
resident of Zimbabwe nor a director of SMM.It is worth highlighting that the exchange control regulations only apply to the residents of
Zimbabwe.
As set out below, the warrant was issued in terms of s5(1)(b) of the Extradition Act 67 of
1962.
The charges against Mr. Mawere were of fraud, alternatively contravention of the Exchange
Control Act of Zimbabwe.
What is strange in terms of this warrant is that it is stated that: "IT HAS BEEN ALLEGED THAT
HE (MAWERE) HAD COMMITTED THE SAID OFFENCES IN THE REPUBLIC OF SOUTH AFRICA
AND THEREFORE HE IS A PERSON LIABLE TO BE SURRENDED TO ZIMBABWE."
Professor Tichaona Mupasiri said: "As the Director of Public Policy at FOSMM, I had never
looked at this warrant to truly appreciate the complicity of Interpol and South African laws
enforcement officers in giving Zimbabwe title and jurisdiction to prosecute a South African
citizen in Zimbabwe for crimes allegedly committed outside its border. It is mind boggling to
learn that this fatally defective warrant was recognized and enforced in South Africa."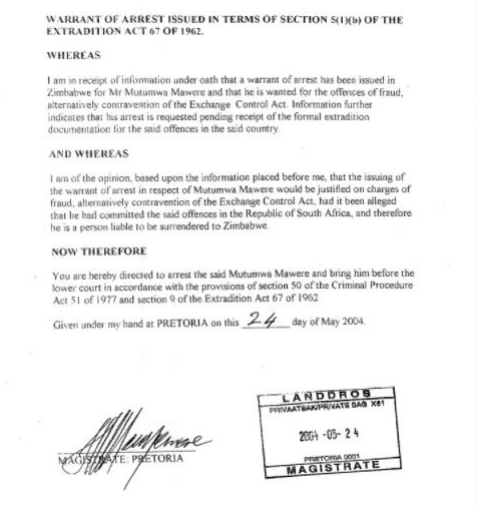 It is common cause that Mr. Mawere was arrested in South Africa based on an affidavit in support of the request by the Zimbabwean authorities to extradite him. The affidavit is
below: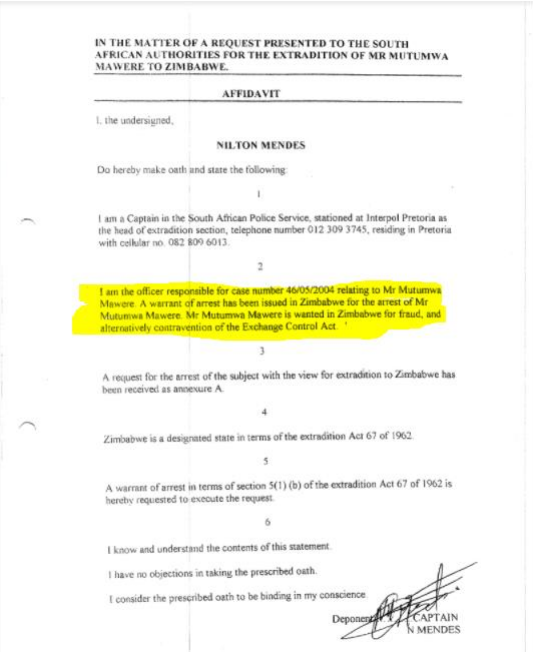 It is clear from the above that the deponent accepts that Mr. Mawere was wanted in Zimbabwe for fraud allegedly committed in South Africa. It is not in dispute that the
Zimbabwean Exchange Control Act applies to facts and circumstances that relate to the affairs of the Republic of Zimbabwe.
On 22 May, 2004, which was a Sunday, Patrick Chinamasa, who was the Minister of Justice, Legal and Parliamentary Affairs at the time is alleged to have caused the letter below to be written and signed by the then Director of Public Prosecutions, Mr. Joseph Musakwa.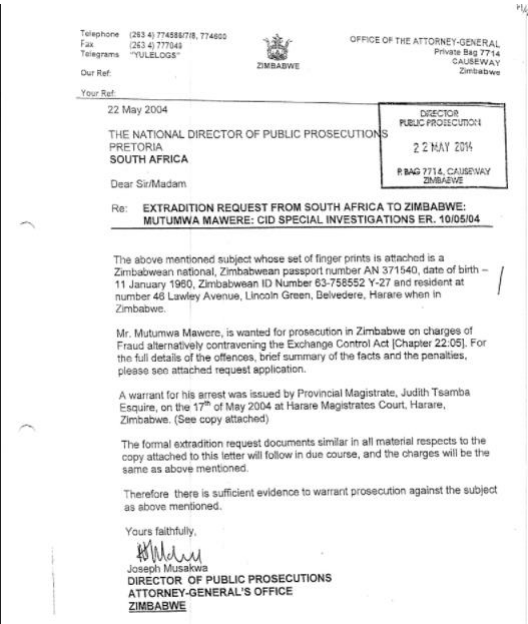 It is believed that Mr. Musakwa was rewarded the following year when Chinamasa recommended him for appointment as a judge.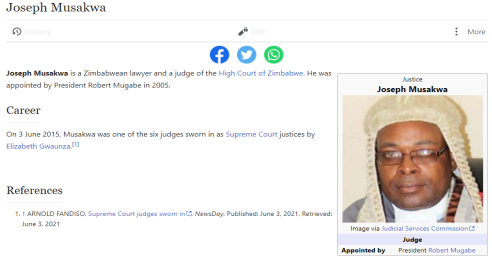 On 3 June 2015, he was promoted to be in the Supreme Court of Appeal as a judge. Mr. Musakwa in his letter to the SA Director of Prosecutions knowingly and intentionally
falsely represented that Mr. Mawere was resident at #46 Lawley Avenue, Lincoln Green, Belvedere for the purpose of inducing South African law enforcement officer to process a
fatally defective and criminal warrant based on facts that he knew did not exist.
It was true and fact that the alleged crime occurred in SA yet here Musakwa acted criminally by inserting that the Zimbabwean address was the pace Mawere used when in Zimbabwe when he knew this was false and fraudulent.
This misrepresentation by Musakwa went unnoticed by the SA and Interpol authorities because it was couched in a manner that represented Mawere as a Zimbabwean resident
who was subject to the Exchange Controls of Zimbabwe.
Mr. Musekwa further falsely misrepresented that Mawere was wanted for prosecution in Zimbabwe on charges of fraud alternatively the Exchange Control Act when he was fixed
with the knowledge that the allegations related to a court order granted in SA.
The Zimbabwean fraudulent warrant of arrest was issued by the then Provincial Magistrate Judith Tsamba on 17 May 2004 in Harare.
Who is Judith Tsamba and what became of her? She later became the Company Secretary for ZESA but it is significant that two months before she did her hatchet job in relation to
Mawere, this is what happened:

On Sunday, 22 May 2021, Interpol was roped into the abuse of public power and the letter below was written to by Interpol Zimbabwe to Interpol South Africa requesting that Mr.
Mawere be arrested in South Africa to answer to allegations of exchange control violations purportedly committed in South Africa.
What is worth highlighting is that the request was made for the immediate arrest of Mr. Mawere and the passport used in this letter was his Zimbabwean passport to create the
impression that he was a resident of Zimbabwe when in truth and fact, he was a nonresident of Zimbabwe making the allegations of exchange control regulations inappropriate
for the facts alleged.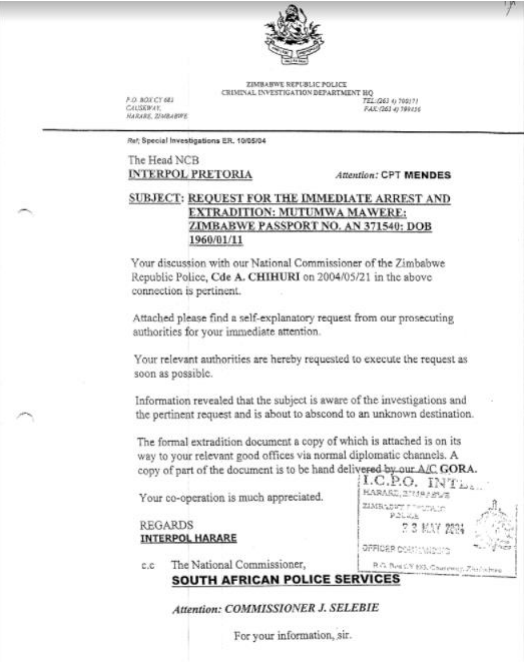 On 29 June 2004, the extradition application was dismissed as set out in this article https://www.iol.co.za/news/south-africa/sa-court-refuses-to-keep-zim-tycoon-in-jail216105.Mawere's lawyer, Michael Salomon, of Salomon-Lipshitz, through Advocate Lawrence Hodes, had argued that the Zimbabwean approach was contrary to South Africa's principles
of justice.
Hodes said in South Africa it was unconstitutional to arrest for the purposes of investigating.
"You first complete investigations and make out a proper case before arresting," Hodes had argued.
By their own admission, the Zimbabwean authorities were not ready to proceed with the case and it would be unfair to keep Mawere on remand, the magistrate said.
The decision means Mawere gets back his passport and R50 000 bail money. "All charges against you are dropped, you can go," the magistrate told him.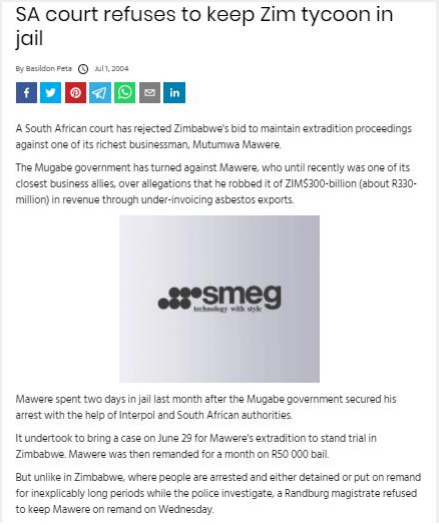 It is common cause that after the failure to extradite Mawere, Chinamasa on 9 July 2004, issued specification order against Mawere in terms of the Prevention of Corruption Act using
the same facts and circumstances of the extradition application alleging that Mawere had committed offences in SA that were punishable in Zimbabwe.On 13 August 2004, Chinamasa appointed Assistant Commissioner Mangoma to investigate
Mawere.
On 26 August, 2004, SMM and related companies deemed to be under Mawere were specified.
Set out below is Chinamasa's version of the facts and circumstances leading to the extrajudicial divestment of the control and direction of SMM on 6 September 2004.
The control and management of SMM was placed under the control of Afaras Mtausi Gwaradzimba by Chinamasa in his capacity as the Minister of Justice.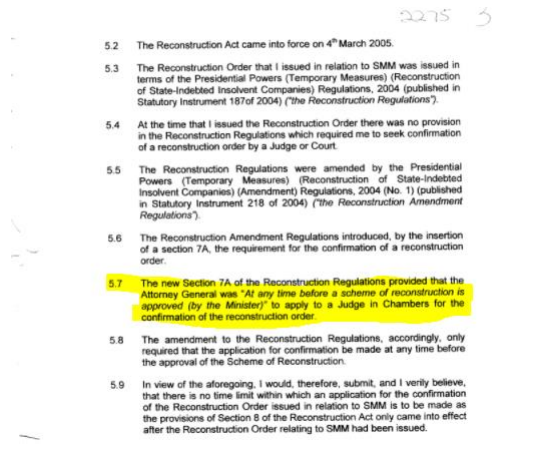 THE MANIKAI FACTOR IN FORMULATING AND PROSECUTING THE RECONSTRUCTION ACT
On paragraph 5.7 of Chinamasa's affidavit to confirm the reconstruction order that he had issued in relation to SMM, he states that the Reconstruction Regulations that were issued in terms of Statutory Instrument 187 of 2004, there was no provision for any judicial involvement in relation to the reconstruction of SMM.
Manikai was purportedly appointed by Chinamasa to act on behalf of the government of Zimbabwe.
The Attorney General's Office Act provides as follows: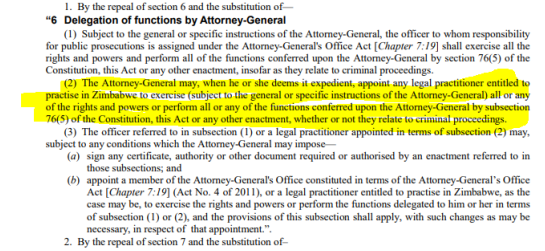 It is true and fact that all the government work pertaining to the prosecution of the face has been exclusively outsourced to Manikai.
It is alleged that the regulations that preceded the Act were not drafted and processed by
the Attorney General's office.
Manikai played a key role in the creation of the Reconstruction Regulations.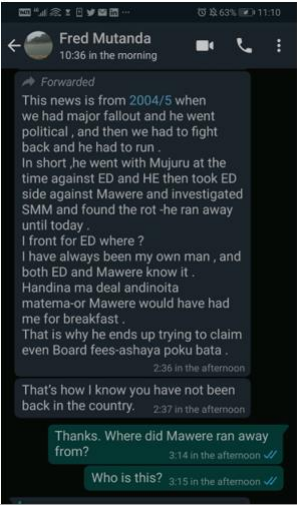 This screenshot gives the public a glimpse of a conspiracy to subvert rules, laws and norms
that play a vital role in underpinning a democratic constitutional order.It provides a concrete narrative that Manikai was not working alone but was part of an
orchestrated team of nameless and faceless citizens with the exception of President
Mnangagwa that he mentions are the trophy of the conspiracy to be delivered to statehouse
by any means necessary.
It helps people connect the rationale and thinking behind the coup and, therefore, it is not
surprising that his narrative speaks to the actual events that preceded the decision to use
public power to destroy anything that stood in their way to enable President Mnangagwa
succeed the late President Mugabe.
The fact that Manikai could openly connect the succession intent of 2004 with the
reconstruction laws sends a chilling message of the threat to democracy he personally poses
and more significantly that absent this important revelation the distortions that has
characterized the SMM matter would go unnoticed.
The fact that the President was part of this naked onslaught on the constitution that he took
an oath to protect and promote leads to one inescapable conclusion of whether he is fit for
purpose.
When he assumed office and knowing the criminal abuse of public power to divest and
deprive of rights and freedoms in relation to SMM, he would have taken steps to distance
himself from the serious fraud on the Zimbabwean people.
The fact that a big spin was at play in relation to the pathway of President Mnangagwa to
the statehouse must worry all citizens who are vested with the duty to protect the rule of
law.
Manikai, a non-state actor was clearly a centra player but could not have committed this
fraud without the knowledge and active involvement of people who were the de facto
drivers of public policy during the Mugabe era.
Manikai continues to be close to the President and this alone shows that President
Mnangagwa sees no evil in the fact that the institution of the Presidency is tainted with
fraud and corruption.
The importance of Manikai's admissions to public policy makes it impossible to ignore this
expose and it seamlessly provides a link with the genesis of the coup of 2017 against the
ZANU-PF constitution.
The SMM story shows that the people who were central in directing the reconstruction
affairs embarked on a deliberate campaign to undermine the rule of law.
They used corrupt means to divest and deprive the shareholders and directors of the control
and management of the company and this fact alone must worry any democratic and the
narrative of the ZANU-PF ascendancy demonstrates how far Manikai as a lawyer regards
contemptuously the oath he personally took to uphold.
Organizing the reconstruction affair was in itself a criminal act and the participation of
Manikai in persecuting and prosecuting this fraud disqualifies him from practicing law and
asserting any privilege as a lawyer.
Clearly Manikai is fixed with the knowledge of what factors at play in this fraud and by
sharing his narrative he automatically waived any right to privacy and confidentiality.
It is trite that democracy depends on public trust and the integrity of the people privileged
to possess and exercise public power but the facts of the reconstruction and the coup of
2017 shows the audacity of the actors in the drama and confirms that Manikai and his
undisclosed conspirators have absolutely no regard for any democratic and rule of law
norms and values.
Manikai's narrative demonstrates that the truth was a real victim and he knew that the
foundation of the reconstruction laws was fraudulent and solely intended to fight Mawere
on political grounds.
The disinformation that characterized the reconstruction of SMM was classic and is similar
to the disinformation that was used in relation to the 2017 coup.
The Zimbabwean public was falsely fed the spin that:
a. Mawere had externalized substantial funds from Zimbabwe.
b. Mawere had fled the country because the allegations of fraud against him were
damning.
c. Mawere was a resident of Zimbabwe.
d. The alleged fraud was supported by facts known to exist in Zimbabwe.
e. Because of the alleged externalization, SMM and related companies were forced to seek
government financial assistance hence the construction of state-indebtedness.
f. The use of Presidential Powers was the best remedy to deal with the situation.
g. Manikai and Gwaradzimba were the best people to prosecute the alleged fraud.
h. It was in the interests of justice and public policy for asset forfeiture to be invoked as a
remedy using public power.
This fraud was committed on the people of Zimbabwe and on the institutions of parliament
and the judiciary with Manikai playing a pivotal role in the prosecution.
Behind the curtain of reconstruction was a criminal syndicate that President Mnangagwa
was an integral part of where the future of so many was stolen with impunity.
Manikai through his astonishing admissions has already thrown President Mnangagwa under
the bus.
Manikai has exposed that the ideology of coups had deep roots.
That the support of the judiciary was given in this onslaught and the fact that they have not
been made accountable says a lot about the strength of democracy and the culture of the
rule of law in Zimbabwe.
The reconstruction affair was not the end of the ideology of coups but the beginning of
coups.
It is important to stitch the facts of SMM reconstruction and its actors to the 2017 actors.
The authors of the coup strategy stood to benefit and are clearly benefiting from the fruits
of their criminal conduct.
Manikai is not only close to President Mnangagwa but is a central player in using the law as a
weapon to annihilate democracy and the rule of law.
Manikai gives a insightful portrait of what happened to justify the use of public power in
relation to the affairs of SMM and sticks him in the same den with President Mnangagwa.
The facts of SMM clearly expose the role he has played in using public power to attack the
rule of law using his profession as a weapon.
The right to appoint and remove directors of SMM just like the power of citizens to elect a
President was divested from them using extrajudicial means.
The rule of law compels Manikai to assist in the search for the truth and in asserting the
supremacy of the constitution which places no one above it.
Zimbabweans in general are in the dark and an explanation is needed as to what the
President knew and didn't know about the events and facts of the reconstruction affair in as
much as the facts of the coup of 2017 that Manikai is defending in an open court.
The rule of law is better protected when transparency is the order of the day.
MANIKAI – THE ARCHITECT AND ENFORCER OF INJUSTICE IN RELATION TO SMM
Manikai's relationship with SMM needs to be unpacked to test if he suffers from any conflict
of interest.It is true and fact that Manikai, who was working for the firm, Gill, Godlonton and Gerrans
(GGG), acted for Africa Resources Limited (ARL), the company that acquired the entire
shareholding of SMM Holdings Limited (SMMH), the sole parent of SMM.
SMMH is a UK registered company.
At the time SMM was placed under reconstruction Manikai and his firm, Dube Manikai and
Hwacha, had a relationship of attorney to client one.
Manikai in his admissions referred to above, states that a major fallout occurred with
Mawere and this resulted in him taking sides with President Mnangagwa.
What is known is the following:
a. Manikai became Chinamasa's lawyer in the prosecution of the reconstruction affair.
b. At all material times, Chinamasa was the Minister of Justice and not the Attorney
General.
c. The Attorney General has to date not been involved directly or indirectly in the
prosecution of the reconstruction in relation to SMM.
d. Manikai has exclusively handled all legal matters including using his firm's address as the
proxy address of the AG.
e. No records exist in the public domain showing the contractual nexus between DMH and
the AG in relation to the SMM affair.
f. Manikai from the onset became the sole legal advisor to the Administrator of SMM,
Gwaradzimba, who was appointed by Chinamasa.
g. No facts exist as to when Manikai was appointed to act for SMM while also acting
purportedly for the government of Zimbabwe.
h. The distinction between the GOZ and Chinamasa in relation to SMM's affairs never
existed as the facts show that only Chinamasa had sole control of the affairs of SMM.
i. Manikai knew the facts and circumstances of informing the decision to create a law or
regulations whose sole aim was to divest the shareholders and directors of the control
and direction of SMM.
j. The law in question was founded on the existence of a new identity of a company solely
on account of alleged state indebtedness.
k. That a company identified as state indebted could be subjected to attack outside the
provisions of the Companies Act.
l. That the Minister of Justice would unilaterally and arbitrarily be vested with the power
to issue a limiting order without the involvement of the courts.
m. In relation to SMM, there was no provision for the court to be involved in determining
the existence of a debtor to creditor relationship with the state, the quantum of the
alleged indebtedness and the whether the alleged debt was due and payable.
n. Manikai would have known as an officer of court that a law that offends the separation
of powers and equality before the law was incurably defective and as such was no law at
all yet he brazenly proceeded to recognize and enforce it.
o. Manikai has been the permanent feature of this affairs since 2004 confirming his
conviction that this law though it poses so grave a risk to the rule of law, is
constitutional.
MANIKAI IN RELATION TO TAP – ZAMBIA
Manikai has played the role of a lawyer to the Administrator of SMM, a creature of statute,
whose authority to be related to SMM as its representative was derived from the regulations
that preceded an Act of Parliament.In this position, SMM was ostensibly his client in Zimbabwe, and as such as a legal
practitioner, his profession would have limited him to act for the GOZ, a party that had
created a law to alienate SMM's shareholders and directors without any due process of the
law.
Notwithstanding, Manikai saw no constitutional violation in his conduct and still sees not
conflict at all.
Below is a letter dated 30 January 2006 and copied to Manikai: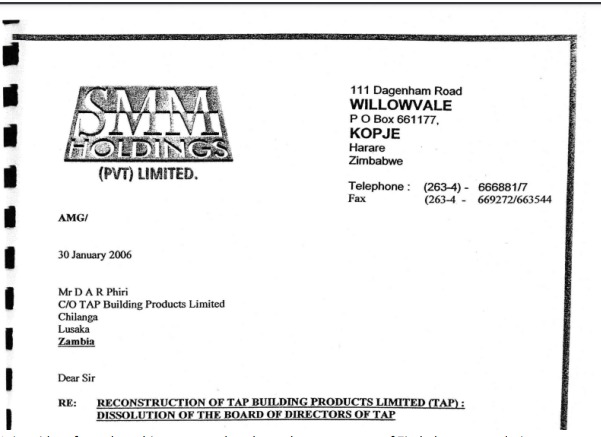 It is evident from the subject matter that the author, a creature of Zimbabwean regulations
and laws, that there was no doubt in his mind that he possessed legal and constitutional title
to write the letter.
The subject matter was in relation to the reconstruction of TAP, a Zambian juristic entity,
and the dissolution of the board of a Zambian company.
It is significant that the then Chairman of TAP was the recipient of this bizarre letter.
The Chairman was a director of TAP having been appointed by the shareholders of the
company.
In terms of the Zambian Companies Act, the title and authority to appoint and remove
directors is vested with the company's shareholders.
Gwaradzimba is a Chartered Accountant and not some corporate pedestrian.
Below is an extract from the letter referred to above:

It can not be noted from the extract above, that Gwaradzimba knew that the only nexus to
TAP was by virtue of the regulations promulgated by President Mugabe and in terms of
international law, the application of such regulations was confined to the territory and
jurisdiction of Zimbabwe yet he brazenly asserted that TAP located outside Zimbabwe was
bound by this law and as such was deemed to under reconstruction and he derived his title
to control and manage TAP.
Astonishingly, he asserts that TAP is an associate of SMM simply based on his interpretation
of Zimbabwean regulations and with no regard to the territorial integrity of Zambia.
He proceeded to nullify the resolutions adopted by the shareholders of TAP to dissolve the
company's directors and appoint new directors.
Gwaradzimba and Manikai are known as belonging to President Mnangagwa's inner circle.
Both are professionals with legal and corporate governance knowledge to know better that
the right to appoint and remove directors falls within the ambit of bill of rights that are
entrenched in the constitution.
Notwithstanding, set our below is what Gwaradzimba stated in the letter:

He asserts a right that he does not possess and uses a Zimbabwean law to attack the rule of
law in Zambia. He states that he is required in terms of Zimbabwean regulations to assume
the control and management of SMM.
He then confers on himself what he refers to as plenary powers and authority over TAP, a
Zambian juristic entity.
From 30 January 2006, the board of TAP was hijacked using a Zimbabwean regulation.
Below is an extract of the same letter that shows that Manikai and Mundashi were both
copied this letter and were or must have been familiar with its contents and their legal and
constitutional implications.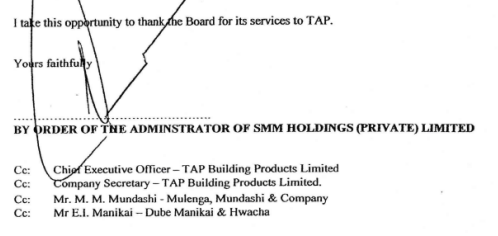 It is trite that a lawyer has a responsibility to the constitution and as such it was incumbent
upon Manikai and Mundashi to be alive to the criminality in the construction and legality of
the proposition that a Zimbabwean law or regulation could apply extra-territorially in
relation to the affairs of TAP.
Lawyers are public citizens and as such cannot escape being accountable for the actions
especially if the actions offend the constitution and limitations imposed on all citizens that
are inherent in it.
Clearly in giving life to a scheme that resulted in him personally benefiting as a director of a
company that fell outside the jurisdiction of Zimbabwe, Manikai knew that his conduct was
inimical to the rule of law.
Ordinarily, one would expect lawyers to understand and define their role as constructors of
constitutional meaning but this case exposes the criminality that is now so pervasive in the
legal profession that allowed this travesty of justice to take place and money to be stolen to
the prejudice of TAP.
The constitution compels lawyers to practice professional responsibility that requires
lawyers to be subject to the rule of law and their responsibility to go beyond client
representations.
As a consequence of this fraud, Manikai became a fiduciary of TAP and as such fully
associated himself with the crime perpetrated against TAP.
Dr Bohloko, a Pharmacist Who Is Healing the African Continent beyond the Use of Medicine
Brian Kazungu, 25/05/2021
As people grow up, what they choose as a profession has a serious impact on how they experience life and how they can make an impact to the world that they live in.
One good example is that in a world where people are troubled by various diseases which affects their ability to be productive and to enjoy life, there those sharp minded boys and girls in our midst who choose to pursue a career in the medical field in order to help take away the pain in others.
As if such a noble pursuit is noble enough for them, you may find the same people engaging in other areas of human life which have got a positive transformative effect in the society that they live in and even beyond.
It is therefore expedient that on this 25th of May, a day that we celebrate and commemorate Africa, a story has to be told of one of her daughters, Dr Ntseliseng Bohloko.
The Lesotho born pharmacist whose humane, and charitable push for a better and inclusive Africa is beyond inspirational continues to inspire and touch many souls through her medical profession and through various Pan African and charitable activities that she engages in.
Despite having a demanding career that comes from having a Doctor of Philosophy (PhD) in Pharmaceutics and Drug Design from Potchefstroom University, a Master of Pharmacy from University of Durban plus a Post Graduate Diploma in HIV/AIDS Management from the University of Stellenbosch, she still finds to pursue good social causes in various communities.
She also holds a Licentiate in Pharmacy from Havana in Cuba.
Dr. Bohloko was recently nominated and inducted as a Point of Light under the 1873 Network's Banking On Africa's Future 10 000 Points of Light – Hall of Fame.
The 1873 Network is a member-based non-profit organization established in South Africa for the purpose of provoking, inspiring and igniting new and innovative ways of problem solving in Africa based on connected, equipped and forward leaning voluntary actors.
In accepting her induction into the Banking on Africa's Future initiative, the Pan African minded Dr Bohloko said "We as Africans need to take hold of what we have in our own countries. Africa is rich but all the resources are being moved from Africa to the so-as developed countries for improvement and they come back to us as finished products.
Africa has resources, Africa has educated its own children in the developed countries. It is time for us the present generation to make use of the knowledge that we acquired in the developed countries and use it to develop and improve on the natural resources that we have as Africans.
I suggest and I am very happy to say that we need to guard Africa and incubate Africa so that we can export the finished products to developed countries and bring back the GDP that was God given to Africa." She said.
Despite being a Pharmacist, she is also heavily invested in charity with various organizations including the Mercy Foundation as its Ambassador in Lesotho.
Mercy Foundation is a faith based initiative which is involved in addressing food security/community development among other charitable engagements coupled with preaching of the gospel irrespective of denomination.
In Lesotho, Mercy Foundation's milestones includes partnering with LECSA and the Chamber of Commerce to kick start charitable activities. http://www.mercyfoundation.online
Dr Bohloko who describes South Africa as a conglomerate of nations recently decried the existence of divisive mind-sets that seek to bring the continent apart instead of bringing it together in solving Africa's perennial problems.
Such Ubuntu-ism is what motivated her to join a pro-immigrants' rights organisation, MIWUSA (Migrant Workers Union in South Africa), previously ZIWUSA (meant solely for Zimbabweans) which fought/ negotiated for the issuing of the four (4) year Zimbabwean Special Permits (ZSP) which enabled unqualified personnel to enter/work in RSA, during Minister Gigaba's tenure.
The success story of such an initiative then inspired her to lobby for the same types of permits for the people from Lesotho, a facility which was also being already enjoyed by fellow Africans from Mozambique by virtue of Mrs Graca Machel being the wife to President Nelson Mandela.