Watch Thandiwe Newton talking to Trevor Noah about her documentary film "President."
The Truth behind Solomon Chanengeta's intimidation
My name is Lovemore Chanengeta, and I am Solomon Chanengeta's younger brother. A false narrative about Solomon's situation is being peddled on Twitter by the handle @nickmangwana, and other faceless Twitter accounts, sharing a fake news article by a nameless reporter from an online publication called Tateguru TV which claims that Solomon is an army deserter. This is false.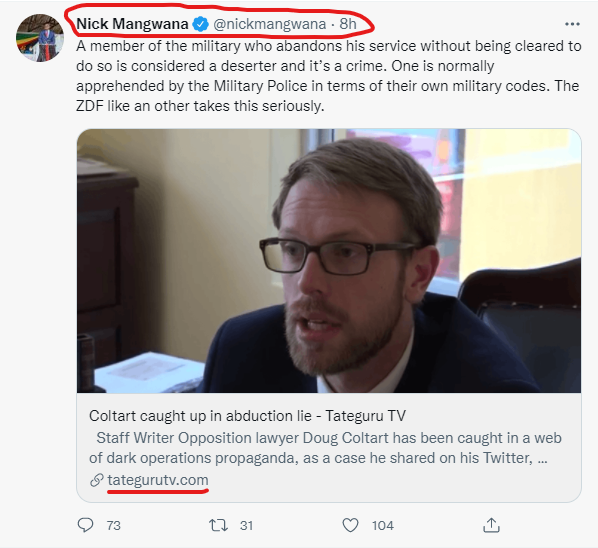 It is shocking and painful to see your brother degraded in this manner based on lies spread by the government instead of protecting its own citizens. When the government spreads fake news, we as citizens become concerned and lose trust because those in positions of power are too lazy to check their facts before speaking or acting rashly and fail to treat citizens as humans who have rights protected by our Constitution.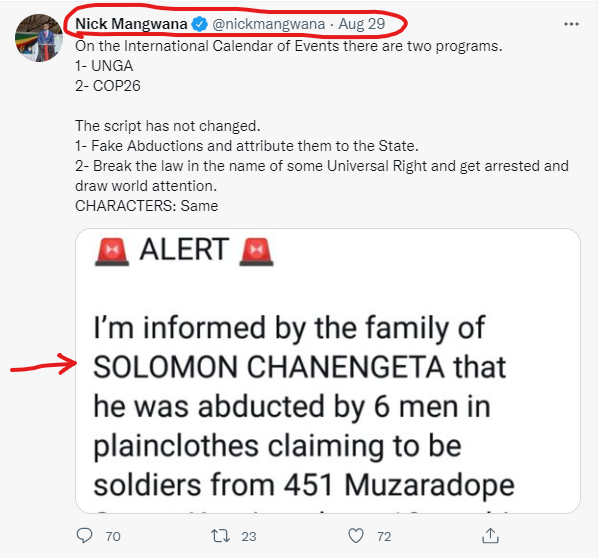 I'd like to set the record straight and to provide facts of the matter in trying to ensure Solomon's safe return home. Solomon is the victim of an unscrupulous and greedy individual who is manipulating our security services for his own personal gain. Solomon is now being held by the military even though he has done nothing wrong.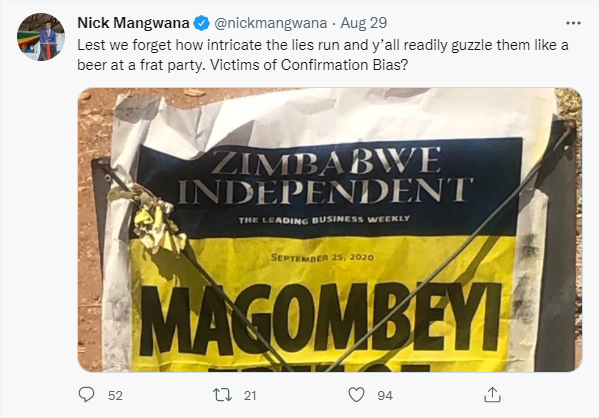 Solomon, like every Zimbabwean, has human rights which are protected by the Constitution of Zimbabwe. Yet for Solomon, it seems his rights are non-existent as evidenced by the horrific manner he was apprehended, on a charge which is not real, based on the malevolence of conniving criminals using law enforcement agencies and the military to terrorize and torment a law-abiding citizen.
Here's a quick rundown of Solomon's history
Solomon joined the ZNA in 2000 and trained at the All Arms Battle 13 Platoon. He was deployed to Masvingo 4th Brigade after training and served his probation period, during which he trained as a Bomb Technician at Pomona Barracks north of Harare. He left the military in 2003 after his probation period following proper procedures and has been a civilian citizen ever since. He is not and has never been, an army deserter.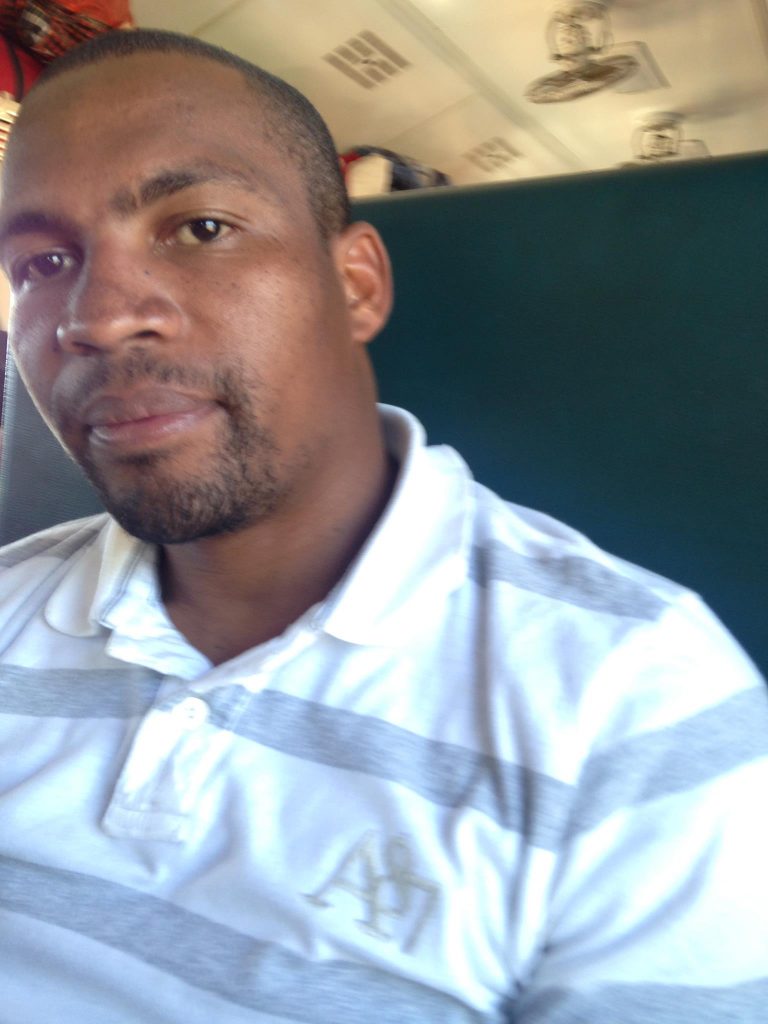 In fact, his status with the military was recently verified just over a year ago. Sometime last year a dispute arose between Solomon and his neighbors at Solomon's plot, and the neighbors called the military, claiming that there is a soldier who deserted within their community. the ZNA Military Police from 2.3 brigade picked him up and released him after validating his status and advising him he was a civilian citizen. That is why it is so shocking that he is being put through this ordeal again so soon after having his status verified. Are all ex-soldiers who leave the ZNA legitimately and in good standing expected to live the rest of their days wondering when next will be that they are bundled into a vehicle and accused of deserting?
How did Solomon end up in military custody?
Solomon's estranged father, Kenneth Chanengeta (original surname Manyika) is trying to snatch Solomon's home from him and sell it to someone else and. He has threatened to get him out of the house at any cost (more of that later).
His father laid spurious charges against Solomon of malicious damage to property at Solomon's house (which his father claims is his) over an allegedly broken toilet seat (in his own home)!
On Friday, August 27, 2021, ZRP Karoi summoned Solomon to the station to discuss his estranged father's sale of the family home. When he arrived at the station, he was informed that he was being charged with malicious damage to property, and he was immediately locked up and detained overnight.
The alleged buyer of the house and Solomon's estranged father demanded that damages be paid in order for Solomon to be released. After paying the damages for the allegedly broken toilet seat, he was released at around 11am on Saturday, August 28, 2021, and he returned to his residence in Karoi.
Later on Saturday night, Solomon received a call from a good Samaritan (Solomon's ex-wife) inquiring as to what was going on as she had received a call from Solomon's father asking if she was aware of any crimes that Solomon may have committed while serving in the military as he would like to report Solomon to the Military Police.
At around 22:12 that night, while Solomon was still on the phone with her, he received a knock at the door. There was a group of six men in plainclothes who stated that they were military personnel who had come to pick up Solomon. The men entered the house and handcuffed him in his pants and vest with no shoes and asked him to leave his cellphone behind. They bundled him into a Honda Fit and sped off so fast that his wife could not even take note of the registration number.
A relative from the neighborhood informed me that Solomon had been picked up by a group of soldiers in a Honda Fit and that his wife is distraught and terrified for her life as Solomon's father's threats to get Solomon out of the house at any cost had come true.
I called human rights lawyer Doug Coltart and advised him of the situation. At my request, he agreed to put out an alert in the hope that it might save Solomon's life and that we would send people to the police station first thing in the morning to make a report if he was still missing.
The following morning, Solomon was found at Karoi police station. The police refused to give the names of the people who had brought him to the police station. Solomon was not charged with any offence but the police refused to let him go. They said that the people who had brought him to the police station would come and get him. Solomon spent another night in police custody, still without any charges, although his docket had been labeled "Defence Act".
On Monday 30 August 2021, soldiers came to collect him from the police station and took him to 2.3 Brigade in Magunje. He is still in military custody at 2.3 Brigade as the military says that they are still verifying his status.
So what is really going on?
Solomon's father is trying to get Solomon out of his residence because his father "sold" the house to someone else and is now under pressure from the alleged buyer to deliver the house.
In the few hours Solomon spent out of detention prior to the frivolous case of malicious damage to property was when he tried to cool off after a night in the holding cells over fake charges by his father in a bid to keep him away from the property, Solomon was preparing to meet with legal counsel over the property.
The property in question is the house Solomon's mother fought tooth and nail to acquire during a time when Solomon's father was not only an absent father but also a wanted criminal.
After Solomon's father was imprisoned for trading in rhino horns, he became absent when Solomon was an infant. In the absence of Solomon's father, she managed to secure a decent home for the family and settled happily with her children. As a jailbird, Solomon's father spent most of his time in and out of prison for very gruesome and unimaginable acts; hence his recent mental instability prompting him to put up a house on sale that does not belong to him.
When Solomon's father returned from his wanderings, a year or so later, he got lost and went to the old house, where he was directed to the property he is now attempting to sell.
She accepted him back, hoping he'd changed, not realizing she'd become the next victim. She stocked up on cement and dug a foundation as she began a renovation project to expand the property's size and add more space. Solomon's father, the unashamed criminal of a father, decided to sell the cement quickly and vanish.
Solomon's father beat Solomon's mother to a pulp, breaking her ribs, back, teeth, and fracturing her head; she was hospitalized for a while and immediately filed for divorce, which dragged on for years, keeping Solomon's mother in and out of court until the judgement was reached stating that the house was finally placed under Solomon's mother and her children; Solomon's father was banished from this property by the courts.
Solomon's mother died in 2003, and his father did not attend her funeral or any of the processions.
Solomon's father began to show visible signs of mental illness in 1998, when he falsely accused Floyd, Solomon's brother, of stealing an engine that did not exist. Floyd was immediately released after it was discovered that Solomon's father was using the police to intimidate Floyd because he was the stumbling block in selling the property at the time, and now it is Solomon who is the stumbling block.
Solomon's father's mental health issues cause him to take money from people in exchange for a house, despite the fact that he knows he can't sell the house and it doesn't belong to him.
Solomon's father is a war veteran with fake credentials and a member of ZANU PF in Karoi who is now trying to abuse his proximity to power to fight his own personal battles using the military and the police. Our military and police should not be drawn into these unstable and greedy individuals' personal issues.
Conclusion
What we have here is a mentally ill person who is allowed to torture his victims for the rest of their lives using the law, taking advantage of how complicit the government is when it comes to the welfare of its citizens, as evidenced in this case where people act rashly based on word of mouth from those better placed politically to make the decision that can land you in prison without a charge. With their clout, they can entice the military to the party.
Unlike the fake news being peddled by @nickmangwana through Tateguru TV, I spoke with Solomon today, August 31, 2021, and he is still at Magunje 2.3. It's frightening to see how the government's mouthpiece is promoting lies and fake news at the expense of its own citizens.
Because the government lacked due diligence by first verifying his status, a simple matter that requires basic comprehension has taken the entire government, its trolls, and its security services, to direct resources towards assisting a mentally ill ex-convict to harass a law-abiding citizen.
Solomon deserves to be freed now.
Banking on Africa's Future (BOAF) To Induct Lawyer, Mr. Edwin N.C Banda into the 10 000 Points of Light – Hall of Fame
Brian Kazungu, 13/05/2021
BOAF, C2C and AHS ANNOUNCE THE INDUCTION OF Mr. Edwin N.C Banda TO THE 10,000 POL – 18 MAY 2021 AT THE ROYAL INDIA RESTAURANT AT 6PM
C2C and Banking on Africa's Future (BOAF) – 10,000 Points of Light (POL) in collaboration with Africa Heritage Society (AHS) is pleased to induct Edwin N.C Banda, a practicing attorney and the founding CEO of Banda and Associates, located at 325 Rivonia Boulevard, Rivonia, to the 10,000 POL Hall of Fame.
BOAF-10 000POL Initiative Director, Mr. Jagjit Singh, said: "I am pleased to welcome Mr. Banda to this exciting and inspiring initiative.
As the BOAF family, we have been challenged to provoke conversations on the role of lawyers in shaping and defining the personality of Africa and to ask basic and foundational questions on what is a lawyer and what it takes to be an excellent legal practitioner.
It is for this reason that I want to give a special welcome to Mr. Banda whose induction into the 10 000 Points of Light stands as a representation and an inspiration to the legal fraternity.
I wish that when we reach the 10,000 target of people who we refer to as the Points of Light (POLs), we will at-least have about 500 lawyers drawn from the depth and breadth of the African continent."
Mr Singh added that, just by identifying exceptional legal minds and promoting conversations on Africa's unlimited possibilities, there is no doubt that many people will be provoked and inspired to play their part in delivering an Africa which is full of active citizens that respect the rule of law.
Mr. Banda brings to the table his experiences and insights on what is required to make Africa great.
He also revealed that as BOAF, they had talks about a platform-based business model for lawyers as a way of responding to the challenges of surviving in this new normal as solo actors or small firms.
"I believe that the pathfinding experiences in the restaurant business which is being utilised by companies like Takealot, Uber Eats, Mr. D. and others will soon be used by law firms to promote their businesses."
As such, I am excited to learn from Africa Heritage Society Chairperson, Mr. Mawere that the lawyer, Mr. Banda also believes in the power of mutuality and has already agreed to use his firm as a platform for aggregation and optimization on legal matters." Singh highlighted.
In accepting his nomination for induction, Mr. Banda said "I am humbled to be part of this initiative.
I have been talking to Mr. Mawere about the urgency and need for this platform-based business model for lawyers and I have noticed that it is not in dispute that acquiring clients who can support especially fragmented black law firms is not easy.
The prohibitive overheads needed to operate a viable law practice have seen many practitioners vacate the profession or face censure by the Legal Practice Council, a development which is highly unfortunate.
More-so, the Covid-19 pandemic has ushered a new and unprecedented era requiring innovative responses and thus proving that a platform-based business model is the way to go." Said Banda
He added that as a Banking on Africa's Future (BOAF) inductee, he will play his part in building a community of lawyers who believe that shared services can best deliver quality outcomes to clients in solving community problems.
Africa Heritage Society Chairperson, Mr. Mawere said that he was elated by Mr Banda's recognition as a Point of Light and hoped that the shared experiences will be noticed and encourage others to see the same light.
"Through sharing experiences, there can be no doubt that clients will benefit and in turn accessibility and affordability issues related to the legal services industry will be solved.
I have been enriched in understanding the importance of the law as a vehicle to solving problems and the value of a practitioner who knows what he is doing." Said Mr Mawere.
He also added that when people are inducted into the hall of fame, it is not about egos, but it is rather a genuine attempt to expand people' reach to competent practitioners in a given field.
BOAF MEDIA Director, Mr. Frederick Koomson, said: "I am pleased to welcome Mr. Banda to this initiative.
I recall meeting Mr. Banda when I was looking for help to solve immigration problems after having been recommended by Mr. Mawere who share the same business address with Mr. Banda and everything went well.
The Visa Facilitation Service office in Rivonia is located near Mr. Mawere's office at 325 Rivonia Boulevard and this makes it easy and convenient to access home affairs services.
In a world where the legal services industry is so broad and diverse, you will find that not all lawyers are efficient and knowledgeable on the law and thus we have to be active and vigilant in order to identify the best lawyers in a mixed bag of legal practitioners." Said Koomsen.
Contact: Project team at The Africa I Want
Jagjit Singh
Email: jjjpunjabiboy@gmail.com
Mobile No: 071 542 9420
Website: www.1873network.com
Follow us on Twitter: @ahsociety, @1873Network, @C2C Follow us on
The Meaning and Benefits of Being A C2C Paid Up Member
Brian Kazungu, 27/12/2020
There are so many voluntary and member-based life transforming initiatives that are taking place in many communities across the world and much of these have participants from every continent as technology has managed to bring people together despite the limitations imposed by geography.
One such initiative is the Connections2Communities (C2C) which seeks to empower and capacitate people to collaborate in solving problems and in collectively utilizing opportunities as compared to doing it individually.
Some of the benefits associated with being a member of the C2C initiative includes mentorship, corporate and legal literacy programs, business opportunities, policy advocacy as well as networking and collaboration on different important activities of life.
Even though so many people have greatly benefited from various activities and programs undertaken by the C2C initiative under the 1873 Network, there are some who would rightly seek to understand whether there is any reason to be a paid up member or not as can be seen from the following chat between Mutumwa Mawere and a prospective C2C member:
[12/27, 6:54 AM] +26xxxxxx: Sorry to divert you Sir… Can we get a whole explanation on being a paid up member…. what it means, how and the benefits or what's involved? I have seen many being confused and lacking proper info there….
[12/27, 7:36 AM] mdmawere1: WHY MEMBERSHIP FEE?
You may be interested as background to understand the history and evolution of the C2C idea. In 2003, I was one of the founders of an organization called Africa Heritage Society (AHS), a member-based organization.
The organization was established to respond to the problems and promise created by the idea called indigenous persons in Zimbabwe and black economic empowerment in South Africa.
You may be aware that in countries like Botswana, an identity called CITIZEN exists and it is exclusive and discriminates against the so-called non-citizens.
Identity Politics is alive and well. Picture this – my son born in SA will face the risk of being excluded in terms of opportunities simply on account of his surname.
Is SA's promise is and has to be reserved for so-called citizens as a preferred group, then it meant to a group of us that we must provoke a conversation of what it means to be African and why countries that subscribe to the idea of African Unity would be the first ones to separate this identity by places of birth.
We agreed that this conversation required that we establish a legal entity of members so that 1+1 can be one voice rather than 2 voices on a shared concern.
It was obvious then that to be a member one must give up something in form of fees. Then when we recognized that the African identity need not be black and the reality of it, is complex and not as simple as we originally thought, we changed the idea and ideal to 1873 Network.
Why 1873? Our idea was to advocate the ideal of a borderless Africa in which people of Africa Heritage can move from north to south and east to west without let or hindrance. If you look at 1873 critically you will discover that 1+8=9 and 7+3=10 and the difference is 1.
What is the power of 1? It means that we can collapse individual ego in a community of egos with a purpose.
The purpose was to provoke, ignite and inspire a change of perspectives on what lies ahead if our thinking and paradigms could be shifted to embrace a shared understanding on what being an African means and ought to mean.
In 2020, we changed the branding to C2C in response to the impact of the digital transformation that has made it convenient for people living a distant locations to be connected and create groups.
It then becomes obvious that connections alone do not provide a basis to build sustainable and mutually beneficial relationships.
Building groups or communities can provide a better basis founded on one of the values that underpins the AHS and the 1873 Network that the brotherhood of man transcends the sovereignty of nations.
Africa belongs to all who leave in it yet the reality is that there exists more than 50 nation-states in Africa.
Is it not the case that even in what's app groups, it is rare that the connections mutate into any concrete outcomes that help to advance any idea or ideal.
Against this backdrop, we agreed that even mentorship can best be delivered on a wholesale rather than retail basis. This resulted in us refusing the membership fee to a flat R500 per year per person and R2000 per year per company.
For those interested in mentorship, an additional R100 is payable per year. You will appreciate that the harvest is greater for the fee asked for.
You may have appreciated that social media holds a better promise for organized groups to connect, equip and inspire yet the reality is that connections are used for different reasons.
I hope you will be provoked to ask more questions from the above. I think it is better to speak to other people through you hence the long winding answer.